"Dream School"
by:Jack
32802 browse
Time required for reading:55min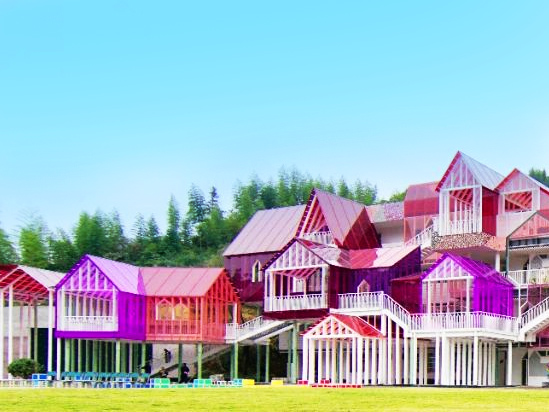 Fuwen Township Central Primary School, Chun'an County
This colorful rural elementary school is not a special effect production, but a central elementary school in Fuwen Township, Chun'an County, Hangzhou City, which has the title of "China's Most Beautiful Rural Elementary School". The design of Fuwen Township Central Primary School in Chun'an County is inspired by the image of gray-red sloping roofed mountain village homes and undulating mountains, which are most familiar to school children. A climbing ladder, cable bridge, slope, and curved corridor are like winding mountain trails. The three-dimensional passage is interwoven with bamboo forests, fruit trees, mountain flowers and small ponds.
Connecting various themed cabins of different elevations and children's scales-classrooms, reading, games, communication, exploration, observation and other spaces into a miniature mountain village-style magical three-dimensional new world, it is more like children being free in nature A kind home to grow up.
The most impressive and dreamy color of Fuwen Township Central Primary School in Chun'an County comes from the innovative environmentally friendly building material-PC board. The color selection of PC board is rich, and products with different colors and different transparency can be selected according to needs, so as to design architectural styles with various artistic effects. The shapes and colors created by different modules give people a beautiful enjoyment.
A variety of red and purple series of PC board facades customized by the school in the factory, combined with local fragmented tile inlay technology, terrazzo ground, finished bamboo-like wave plastic wood panels, and freely foldable doors and windows create a bright green mountain and green valley , Colorful, children's world in dialogue with mountains, sky, breeze and starry sky, health, art, and natural living place. This is exactly what children, teachers and parents want, and it is also the place in most urban or rural schools. missing.
In addition, as a public building, the school gathers a large number of people within a certain period of time, and safety is of paramount importance. The outstanding advantage of PC board is that it has high strength and can resist hail damage, mechanical damage and other damage. In addition, the PC board also meets the requirements of flame-retardant materials after testing by the National Fireproof Building Material Quality Supervision and Inspection Center. Conducive to fire prevention. In addition, the surface of the PC board has a 50-micron-thick UV protection layer, which can ensure that children will not be harmed by the sun when they have fun playing without affecting sufficient light.
At the same time, the environmental protection characteristics of PC board are also amazing. PC board has excellent light transmittance, which can make full use of natural light and reduce artificial lighting. PC board can also be recycled, can be processed repeatedly, and waste products and leftover materials can be recycled, which will not cause environmental pollution.
In fact, not only is the Fuwen Township Central Primary School in Chun'an County, PC panels also play an important role in many well-known buildings. The roofs of the 2006 World Cup in Germany, the main stadium of the 2002 World Cup in Jeonju in South Korea, the Norwegian Stadium and the main stadium of the Athens 2004 Olympic Games opening and closing ceremonies are made of hard, highly transparent PC panels.
Especially the roof of the main stadium in Athens in 2004, which also set an "Olympic record" at that time, was the largest open-air stadium roof, the largest transparent roof, and the largest roof that was assembled and then installed. It was hailed as an architectural miracle. It is believed that with the continuous advancement of PC board production technology, more and more dream buildings will appear in front of the world.
Submit successfully
We will review as soon as possible